'Tis the season. Since becoming full-fledged adults, wives and mothers, one of the things that has most confounded us is the growth of the list of people upon whom we're supposed to bestow gifts this time of year. There are some on this list that we find exasperating (like your sister-in-law's bird or some other such ridiculousness). There is one group of people, however, to whom we would happily give a gift each day of the year – our children's teachers.
These are the people who spend almost as much time with our children as we do and who play a huge role in shaping their young minds. Of course, coming up with the 'perfect' gift for these superheroes is often a daunting task. Thus, we give you our list of gift ideas for teachers.
The beauty of this list is that we are two different mamas with two different sets of skills and methodologies (one of us is crafty, patient and kind; the other is uncrafty, impatient and pretty much unkind this time of year). As such, you'll likely find an idea that fits your very own personality somewhere between our ideas.
First up, Courtney…
I absolutely adore the montessori preschool my two oldest children attend and as such, have been thinking a lot about the perfect gifts for their teachers. The catch is that since I have two kids in a two-classroom school, they are in contact with pretty much all of the eight or so teachers on staff, which number upwards of eight. The criteria for my teacher gift-giving is that is has to be easily attainable (i.e., preferably purchased online and delivered), pragmatic (I like gifts to be used and appreciated regularly) and relatively economical (tough when having to buy for so many). Hmmm…can you guess if I'm the uncrafty one yet? My method: thought, questioning others and ultimately, a note to the school's Director about what the school and teachers would love to have. Without further ado, here are my ideas:
1) Chocolate. Always a crowd pleaser, this is a simple way to give a little happiness to a lot of people. Branch out and get something special. Williams-Sonoma has a nice selection of goodies and extra-ordinary treats, Vosges Haut Chocolat offers wonderfully exotic chocolates, or go big with something direct from La Maison du Chocolat.
2) Bring lunch in from a local cafe for all of the teachers. I see the saints at my children's school, aka the teachers, eating their sandwiches, sitting in the miniature chairs at the miniature tables with all of the kids every day and think, "Bless them." They love doing it, but I'm also sure they'd love an adult lunch freshly made and delivered for a special treat one day right before the holiday break.
3) Radio Flyer. That's right, the wagon. I called up the school's Director, asked her for ideas and she gave me one. Love her for her candor and the fact that she even sent me a link to the site form which I could purchase it! I hesitated for a moment because this isn't exactly for the teachers, but she assured me they'd all been talking about wanting one for the school since the old one broke months ago. There's no doubt your school needs something too – go ahead and ask…you'll be surprised at what you might learn and how easy it is.
4) Lastly, I'm having my children color a picture for each of their teachers – simple, straightforward and made with love. What more could they want?
And now, Elizabeth…who is just as impatient as anyone else and not nearly as kind as my flattering co-blogger…and "crafty" if only you define that as interested in copying the Pinteresting things others create around and about the intertubes. But I do enjoy making things, and I particularly want to find ways to involve my kids in the gift-giving process, especially as applied to their teachers. Last week we went to Target to accumulate a basket full of stuff to contribute to the school collections for kids in need; while my kids seemed to register the meaning of the process as they chose a soccer ball for Ryan and Hot Wheels for Esteban, actually helping make something for their beloved teachers connects better with the "from me to you" aspect of showing love and appreciation this holiday season. (I'll also add the caveat that we do always contribute to the room-mother collection for the class teacher gift (usually a gift card), and want to wholeheartedly endorse Courtney's suggestion of bringing lunch. Each grade in our school takes a month to be responsible for "teacher appreciation", which usually involves breakfast or lunch for the teachers, and they do love it! Really, who doesn't love any meal they don't have to prepare themselves?)
So without further ado, here are a few simple homemade projects I've found on Pinterest that translate well as teacher gifts from the kids and me:
First, we've been making batches of these yummy sweet-and-salty bites all week, and they are every bit as delicious as you would guess (although I wasn't clever enough to buy the red-and-green-only M&Ms, oh well). Each of our teachers will be getting a small tin container full of them, just enough for one person, maybe two.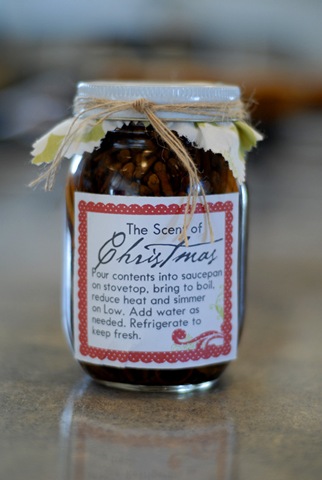 We've also just made 12 jars of this fragrant concoction (I'm one of those super-picky people who can't stand the fake smell of most candles, so I promise you this is a legitimately pleasant aromatic experience) that will fill your home with the smell of Christmas when simmered on the stove. Total requirements: 12 jars from the hardware store, 2 oranges, 3 lemons, 1 lime, 4 containers each cinnamon sticks and cloves, 1 container bay leaves. Done. Cost? Less than $20.
How cute is this? My adored law professor once shared a Jewish fable with our class of clinical students, the essence of which was that the reason we each have a unique fingerprint is so that each of us can leave our own unique mark upon the world. At graduation we gave him a print of our fingerprints, with autographs, and I understand he now has a collection of such prints on his office walls from each graduating class since. This is a really sweet way to let your teachers know they make a genuine difference in our kids' lives, and we value them.
Finally, I have a vivid memory of lugging a handle of premium vodka to school as a holiday gift for my second grade teacher, Mrs. Lemieux, of whom my father once memorably said that if his name was Lemieux and he had a son, he would name him Pepe. The holiday gift of booze presented by a seven-year-old is one of those long-gone 1970's vignettes that wouldn't quite fly in our post-modern age (much like sending same seven-year-old into the gas station to fetch a carton of Marlboro Reds, but that's not a holiday story anyway). This particular craft creation would be equally charming affixed to a six-pack of Guinness, but perhaps that's been done as a hostess gift.
Feliz navidad!